What is a progressive jackpot? It's an exciting feature found in many online casinos. The progressive jackpot grows with every bet by taking a small part of it. The popularity of the specific slots game determines the size of the prize. Some players have won a true fortune by hitting those jackpots. In this article we will list the largest jackpots and wins in the history of online casino.
1. Mega Moolah
This is a 25 pay line, five reel game designed with savannah wildlife. One of the featured African animals is a lion, and it's a wild symbol that doubles your prize whenever you see it. There is also a trophy symbol, which is a scatter symbol that gets you free spins by appearing on any reel. Additionally, these free spins actually triple your payout.
The progressive jackpot is triggered randomly, even if you bet as low as the minimal quarter of dollar. You're taken to a spinning wheel, where a Mini, Minor, Major, or Mega jackpots are available, with Mega jackpot is being the largest of them all.
Since being introduced in 2008, this is the leading jackpot that created the most amount of new millionaires. The first winner was from Finland, and he took home a 5.5 million dollars prize. Many more followed. The biggest winner in history of online casinos was Jonathan Heywood, who hit the gigantic progressive jackpot of £13,213,838 (€17,879,645). This helped the former British soldier to pay for his father's medical bills, and then some.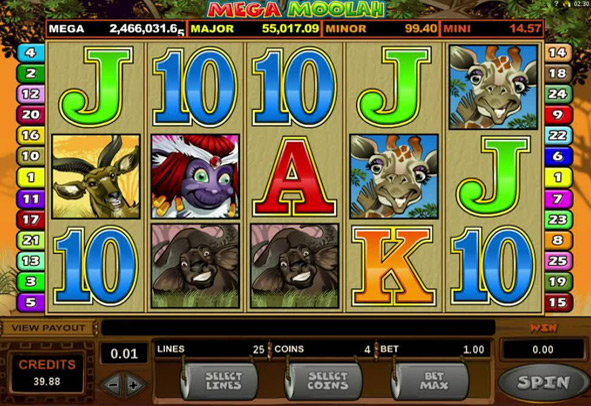 2. Mega Fortune
The Mega Fortune slots is all about the luxurious life, featuring yachts, diamonds, limousines, gold and champagne. The yacht is wild, it substitutes for the rest of the symbols. The jackpot round is triggered whenever you get three wheel symbols anywhere.
This bonus round takes you to a wheel, where you need to get through two layers in order to spin for the progressive jackpot in the wheel's center.
Just like Mega Moolah, this jackpot has created many millionaires since its initial launch. One of them was a player from Helsinki, who raked in €17,861,813 in 2013, which only recently and narrowly beat by the aforementioned Jonathan Heywood's payout.
Click to claim your $50 free chip + %400 welcome bonus at slotmadness - NO DEPOSIT NEEDED! (Also accepting players from USA, Canada and Great Britain)
3. Hall of Gods
This slots game deals with the impressive Norse mythology, featuring its famous pantheon of gods, such as Thor, Odin and Loki. The wild symbol is represented by a legendary sea monster, and ravens are a scatter one, giving you 10 or more free spins whenever you spot three or more of them.
Three or more Thor's hammer symbols take you to one of the three available jackpots, with Mega jackpot being the largest. You'll need to break mirrors with the hammer, which will actually bring you good luck is you match 3 prize symbols!
The payouts history has been impressive as well. In 2015, a Swedish player won €7,788,882, and a few more winners took home several millions in the years 2012 – 2016.
4. Arabian Nights
This is one of the oldest jackpot slots, existing since 2005. It is designed like a classical Arabian city during the night. Like other slots, this one also has a wild symbol and a scatter one that provides you with free spins.
To qualify for the jackpot, you need to bet the maximal amount. You will win it if you get five Arabian man symbols in a line. But even if you don't max bet, you can get a 10,000 coins jackpot.
This progressive jackpot as also seen some huge winners over the years, with the largest one being €8,635,872 in 2015.
5. Melon Madness
This is a 30 pay line, 5 reel slots game, completely covered with fruits (on both the reels as well as the buttons). It also has a bell symbol that gets you free spins whenever you see it three or more times. The graphics are terrific and professionally executed.
The game has as much as five jackpots, which are Blitz Cash Jackpot, Quick Cash Jackpot, Super Cash Jackpot, Mega Cash Jackpot, and Colossal Cash Jackpot. The last one is responsible for making a few millionaires in the recent years. You can win the progressive jackpot any time, regardless of the size of the bet. Although, naturally, the bigger bet increased your chances for any of the 5 jackpots.
Since this is the first progressive slot that was focused on the mobile players, it's no surprise that an iPhone user was the first to win a $1.45 million payout in 2013. But that didn't stop there, as another player won the largest Melon Madness payout yet in the same year – a staggering $7,525,851!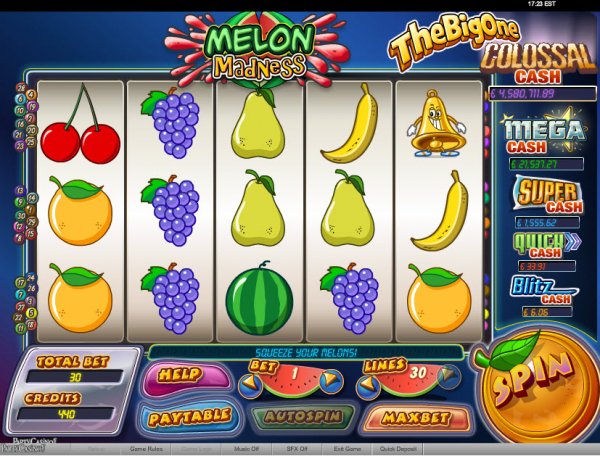 6. Beach Life
Beach Life slots is all about a sunlit day on a lovely beach. Among its symbols is the sun (wild), treasure chest (three or more trigger a bonus round) and the scatter symbol of sandcastle. The fun, cartoon-like look add a lot to the gaming experience.
When you activate all 20 pay lines and get 5 wild suns on the twentieth, you win the Beach Life progressive jackpot. Five suns on any other line get you 100K coins.
The biggest winner of this jackpot was an anonymous player from the UK, who cashed out an astounding prize of $8,211,861. Throughout the years, several more players from around the world took home multi-millions prizes.
7. Mega Moolah Isis
This exciting slots game features ancient Egyptian symbolism, as well as an enormous progressive jackpot. The eagle symbol earns you some free spins, while Cleopatra is wild, replacing any other symbol to get you wins.
The bonus round is triggered randomly, and it brings you to a spinning wheel, where a Mini, Minor, Major, or Mega jackpots are available. The Mega one starts at one million coins. It is connected to the previously mentioned Mega Moolah jackpot. As we speak, Mega Moolah/Mega Moolah Isis jackpot currently stands at over $5.2 million.
8. Aztec's Millions Slot
This is a 25 line game, designed with the music and symbols of the ancient Aztec culture. The Central American theme is intriguing and fun to play. The jackpot itself starts on the one million dollars mark and can be one when a line contains five symbols of Aztec's Millions.
Currently is has reached the $1,925,000 mark. While it's an enormous sum to win, it hasn't been won yet. Maybe it's due to the fact that Aztec's Millions' popularity is not as high as that of other games on this list.
9. Jackpot Giant
This game is equally about the slots and about playing for a tremendous jackpot. The game's theme is a giant who is a facing a volcano bursting with gold. Its design includes mountains, rocks and an old village.
If you get three or more volcano symbols, you activate the bonus round with some serious money prizes. As for the gigantic jackpot itself, you're required to pay all available 30 lines as well as the max bet in order to qualify.
A librarian from Scotland has hit the jackpot in 2016, taking home €5,890,641. As she admitted, she was completely shocked seeing this huge number a few minutes after playing on her mobile phone.
There haven't been any additional big jackpot winner, since the game is relatively new. Nonetheless, the game is truly entertaining, so we expect more big winners in the nearest future.
10. King Cashalot
King Cashalot's theme is a gold-obsessed king, and it's a nine pay line slot. It's designed with the usual feudal symbolism, such as the king himself, the court's jester, the members of the royal family, and a royal feast. You can win this progressive jackpot if the ninth pay line has five king symbols. Therefore, all nine lines must be paid in order to trigger the jackpot.
This jackpot starts at 100K, and a few years ago has reached the 1M milestone, when an unknown player took $1,527,228 in 2011.
11. Marvel Ultimate Power
For all you superhero fans out there, this is a jackpot connected to several slots featuring Marvel's most beloved icons. Among the Marvel slots are The Avengers, Blade, Fantastic Four, Ghost Rider, Thor, and others. Playing any of these games can trigger the jackpot, which is a big advantage in your favor. Any spin, no matter what the bet is, can randomly take you to a scratch card. The cards lets you choose 4 spaces, which in turn reveals your prize.
Power Jackpot, Extra Power Jackpot, Super Power Jackpot and Ultimate Power Jackpot are the four possible jackpots in this game. Back in 2011, a player from Chile got an enormous Ultimate Power Jackpot: $1,378,389! In the following years, 3 more players have won a million+ jackpot each.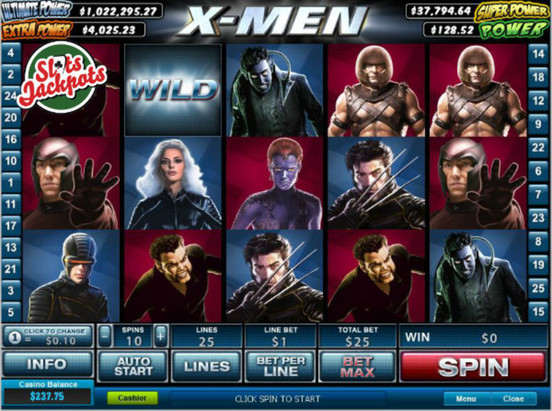 In conclusion, there are tons of opportunities for you to win a huge progressive jackpot. Now that you know which jackpots exist, look for them in online casinos and also check out our casino bonuses and promotions page for great offers not to be missed. Many of the online casinos offer a real multi-million dollar payout. You must always remember, of course, that they don't hit that often. Therefore, adjust your expectations according to the odds, but still have fun playing them. On the other hand, never stop dreaming – you just may get lucky one day.
We also recommend you to visit our growing casino videos page and enjoy everything you need to know in order to beat the casino, have fun and win some money in the process.